Doji Candlesticks
Candlestick Doji terjadi apabila harga open sama dengan harga close sehingga body hanya membentuk  suatu garis.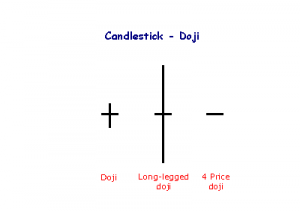 An open and close in the middle of the candlestick signal indecision. Long-legged dojis, when they occur after small candlesticks, indicate a surge in volatility and warn of a potential trend change. 4 Price dojis, where the high and low are equal, are normally only seen on thinly traded stocks.
Dragonfly
The dragonfly occurs when the open and close are near the top of the candlestick and signals reversal after a down-trend: control has shifted from sellers to buyers.
Views – 107